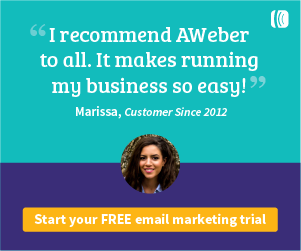 It's important to take advantage of the traffic that your business is getting on Facebook. It's one thing to have visitors peruse your Facebook page, and not visit your website. The purpose for your Facebook business page is to keep your viewers up-to-date with your business' latest endeavors and to connect with your viewers to understand their needs, wants, and expectations of your business.
What you don't want is a Facebook page that doesn't convert visitors into subscribers. Without a method to capture all of the traffic swarming on your Facebook page, you lose potential customers. For this reason, you need to publish an AWeber signup form on your Facebook page.
What makes the process so simple is that AWeber developed a Facebook application that will allow you to easily add your form to Facebook.
For step-by-step instructions, click here.
Publishing Your Signup Form to Facebook
Add the AWeber app
 to your
Facebook page
.
RECOMMENDED NEXT:
OR
[maxbutton id="16″]
[maxbutton id="11″]
[maxbutton id="10″]
Comments
comments